Signing in to the Community allows you to post questions and replies, vote on ideas, and provide updates to your support tickets.
If you do not yet have a password for the VertiGIS Community, you can request one as follows:
Open VertiGIS Community website: https://community.vertigis.com/
Click on "Sign in" in the upper right corner
Click on "Get a password"
Enter your e-mail address and click "Submit"
You will receive an email with instructions on how to set your password. If you had an account with the Geocortex Community, please use the same email address that is associated with your ArcGIS Online account.
If you see this error when trying to sign in: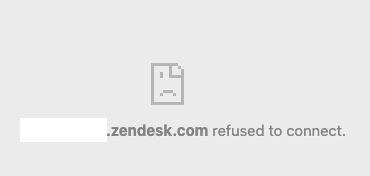 Please add vertigis.zendesk.com to the cookie exceptions in your browser and clear the browser cache.
This recommendation comes from an article of the software vendor: Error: Refused to connect
More info can be found in the following article: Options to clear cache and cookies
If you get an Invalid authenticity token error after attempting to sign in:
Please disable any active anti-tracking software you may be using in your browser. We have found that DuckDuckGo Privacy Essentials interferes with sign-in.