Overview:
Sometimes when you attempt to login to Analytics you get a blank screen instead of the AGOL/Portal sign in page.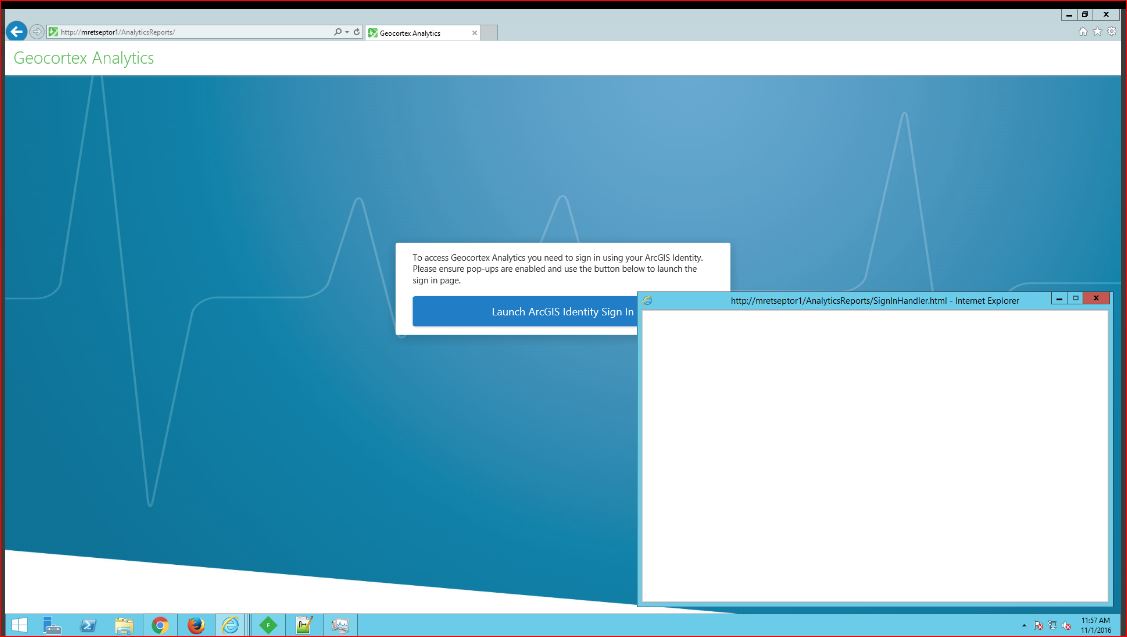 The network traffic usually fails with a 404 error




Solution:
Here are some steps one can try to recover from this:
Are you using a forward proxy? Check your browser (Internet Explorer) settings to confirm.

If this is the case then run the Geocortex Analytics ArcGIS Identity Setup (Post installer) on the Hub server and configure your proxy to work with Analytics.

Restart the web service proxy role on all the nodes on your cluster. This is accomplished by adding a space to the end of the role.config file located in Program Files\Latitude Geographics\Geocortex Core\NSRoot\Geocortex\Core\Roles\WebServiceProxy\3.0.3.1485\role.config

3.0.3.1485 denotes the version of Core that is installed on the Server, may be slightly different depending on the version of Core you have installed

It's good practice to make a backup of a config file before you edit it, however make sure that the folder does not contain more than one .config file, or multiple versions of the role will be loaded. For example role - Copy.config is not OK, but role.config.bak is fine

Restart the Geocortex Core service on the Hub Server and if problem persists restart the Geocortex Core service on the other nodes in the cluster
Restart IIS on the Hub Server
Run the Geocortex Analytics ArcGIS Identity Setup again on the Hub Server. This is particularly useful when the data folder has been wiped or Core was reinstalled on another node
If all else fails please contact our Support team.