Overview:
This article will explain how to troubleshoot and fix orphaned file permissions in Essentials Manager. Your permissions can become orphaned in a number of ways, including but not limited to:
Running the Post installer on a system running multiple versions of Identity Server
Migrating your secured site from one Essentials server to another
Changing your Identity Server configuration


Solution:
Start by looking at the security tab in Essentials Manager (As of Essentials 4.5, this tab is called "Security and Data")

Edit your Geocortex Identity Server configuration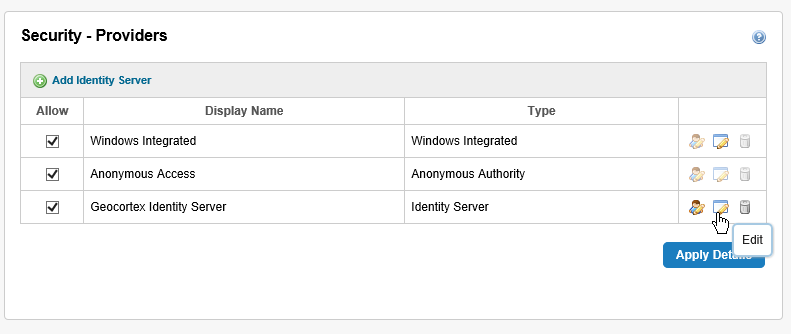 Make a note of the URL and make sure it is correct (If you are running a standalone version of Identity Server, and you recently ran the Post Installer, this URL could change back to the default).
Make a note of the Issuer Seed.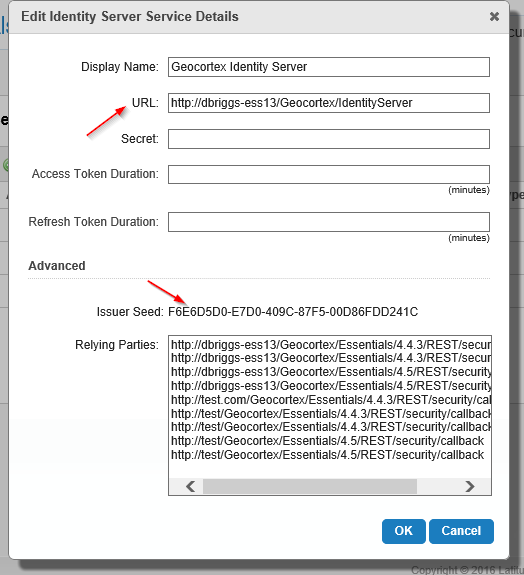 Make sure that your site is not open in Essentials Manager.
Navigate to your site folder and make a backup of your Site.xml (For the site that is showing the orphaned permissions)
Edit the site.xml file, and search for the word "Issuer"
You will see an XML block similar to the following:
<Permissions Inherit="True">
    <Allow Type="http://schemas.xmlsoap.org/ws/2005/05/identity/claims/nameidentifier" ValueType="http://www.geocortex.net/security/claims/weak-identifier" Value="bill" Issuer="urn:gcx:idp:F6E6D5D0-E7D0-409C-87F5-00D86FDD241C" OriginalIssuer="https://dbriggs-ess13/geocortex/identityserver" />
    <Deny Type="http://www.geocortex.net/security/claims/category/guest" Issuer="urn:gcx:guest" />
  </Permissions>
The part we are interested in is this one:
Issuer="urn:gcx:idp:F6E6D5D0-E7D0-409C-87F5-00D86FDD241C"
Make a note of everything after "urn:gcx:idp:". This is the old Issuer Seed.
Perform a find and replace in the file for all instances of the OLD issuer seed, and replace them with the NEW issuer seed. Save and close your Site.xml file.
Now reopen the site in Manager, and check the permissions. You should no longer see any orphaned file permissions.